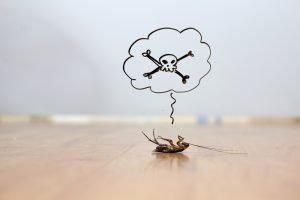 Whether you're buying a new home or simply worried about the one you're in, it can be confusing to understand the terminology around pest control. Pest inspections are not the same as pest control but they both go hand in hand to create the perfect pest protection solution for your home or office! Both are necessary to ensure pests are completely eradicated. Without both a quality pest inspection and quality pest control, there are bound to still be pests lingering around your property.
Here's what you need to know about pest inspections vs pest control.
What is a pest inspection?
A pest inspection entails a professional coming to your home or space to inspect all areas of the property where pests could reside. Professionals know exactly what to look for when inspecting for pests such as rodents, termites, spiders or ants. They will also inspect for any damage that may have been caused by pests. You might decide you need a pest inspection because:
you have noticed droppings in your home of mice or other rodents
you are worried about the presence of termites in your home
you have an ant problem that you are having trouble eradicating
you are about to purchase a property and need to ensure that it is pest-free first. This is a requirement by all Queensland banks when mortgaging your home.
How often should you get a pest inspection?
A regular pest inspection is essential to avoid any long-term damage to your home. 12 month inspections are a must. No home is immune from rodents or termites causing serious, and perhaps even irreparable, damage.
What happens during a pest inspection?
During a pest inspection, a professional will visit your home and look for signs of pests or pest damage in all accessible areas of your home. The more accessible areas are, the better they will be able to inspect accurately. Cluttered areas, for instance, will be harder to access. Easy access to roof cavities or sub-floor areas also helps for a more accurate inspection.
During a pest inspection your inspector will be looking for things like:
Dampness in the ceiling or walls. This may indicate the presence of pests blocking or breeding in pipes.
Any excavated wood in or outside the home. This can indicate that termites are present in the home or close by.
Droppings that indicate pests. Knowing where the pests are can help target them more effectively, whether they are mice, rats or bed bugs.
Damaged furniture. Gnaw marks on furniture or droppings on furniture can be an indication pests are in your home.
What is pest control?
Pest control isn't just about treating the pests found from a pest inspection, although that can be a component. A pest inspection can also identify potential risk areas inside or outside your home. Pest control may be cleaning those areas, removing any untreated wood structures in your garden or having a professional provide a preventative measure.
Pest control might eradicate or prevent:
termites
cockroaches
bed Bugs
silverfish
pantry moths
rodents (mice and rats)
spiders (including the increasingly common redbacks)
white ants
carpet beetles
fleas
What different types of pest control are available?
There's a variety of types of pest control available. After receiving a detailed inspection report, it's important to make sure that your pest controller is:
using safe, quality products to eradicate pests from your home
using a product that not only eradicates but prevents pests from coming back for a specific amount of time
using targeted eradication based on a detailed inspection report, rather than a broad spectrum pest control product which may eliminate some pests more effectively than others.
How do pest inspections and pest control go hand in hand?
It's really important to have a quality pest inspection before going about any pest control. A sub-par pest inspection could result in you outlaying time and money for pest control that doesn't quite eliminate all the pests. Even worse, they might miss something in your new home that you don't find out about until it is too late.
When should you leave the pest inspections and control to the professionals?
General pest inspection at a glance can be something you do yourself but it will never be as accurate as the opinion of a professional who is trained to look in all the right areas for very specific signs of pests. In terms of control, there are also some things that need to be eradicated in a careful way. All termite findings in Queensland need to be documented and the movement of white ant nests or poisonous spiders can be dangerous. If in doubt, it is always best to call in the professionals for both safety and peace of mind that the job will be done right, the first time.
How does Bennetts Pest Control deal with pest inspections and control?
Bennetts Pest Control provides quality pest inspections and pest control across Brisbane. Bennetts offers:
Genuine, professional and speedy service. Bennetts will provide an authentic pest inspection complete with the best ways to control or prevent any future pest breakouts. Bennetts Pest Control believes an inspection, control and management with regular checks in the future works best.
Quality pest control products. Quality products can provide eradication and a barrier solution around your home or office, keeping invasive pests like termites out for good!
Helpful reminders. Bennetts Pest Control will contact you with annual reminders when your pest inspections are due.
If you want the right pest inspection and control for your home or office, call Bennetts Pest Control. The Bennetts team have over 50 years' experience servicing areas throughout Brisbane and the Sunshine Coast. Call us for an obligation free quote today!
Need more information about the differences between pest control and pest inspections? Contact the team at Bennetts Pest Control today!